Discover more from The Khoj Story
"Khoj" means discovery. We aim to not only enable you to discover new South Asian homegrown labels to support but also to uncover the stories behind these brands and learn more about fashion, beauty, and lifestyle genres within the South Asian diaspora.
Khoj Awaaz # 4: Shaishavi Mehta - Rafu-ing the gap between between narrative textiles and contemporary fashion
In the world of Indian streetwear, one brand stands out for its bold and vibrant designs—Rafu'd. At just 23 years old, Shashavi has taken the fashion entrepreneurial world by storm with her unique prints and distinctive brand identity. But what led her to this path of success? Let's dive into Shashavi's journey and explore the catalysts that shaped her brand.
Growing up in the small town of Vapi, Shashavi was raised in a Gujarati household, which has had a significant influence on her design aesthetic. Her mother's love for craft sarees and her father's passion for travel played crucial roles in shaping her creative mindset from an early age. Whenever her family visited a new state or city known for its local crafts, her mother made it a point to purchase a saree, introducing Shashavi to the rich world of textiles and Indian art forms.
Shashavi's path to fashion entrepreneurship began during her college years at the UID (Unitedworld Institute of Design) in Gandhi Nagar. Even as a student, she harbored the dream of starting her own brand, and she actively worked towards realizing it. During her time in design school, she embarked on internships with renowned brands like Doh Tak Keh , Advait and other sustainable fashion houses. These experiences solidified her commitment to incorporating sustainability into her future endeavors.
A pivotal moment in Shashavi's journey was a transformative 40-day trip she embarked on with a fellow design school friend. Their goal was to explore local vendors specializing in sustainable fabrics, fair trade production houses, innovative packaging solutions, and craft artisan clusters across Western India. This immersive experience allowed Shashavi to build connections and discover like-minded individuals who would later become integral to her brand's success.
After completing her eye-opening trip, Shashavi took the bold step of quitting her job and dedicated herself to launching Rafu'd. In just five months, she transformed her dreams into reality. Eight months into her entrepreneurial journey, Rafu'd had already garnered a remarkable response, surpassing her initial expectations.
While pursuing her passion for fashion, Shashavi encountered the typical challenges that come with defying traditional Indian career paths. As the only member of her family to break away from the engineering trajectory, she faced initial skepticism. However, her parents' support and belief in her potential helped her overcome these challenges. They recognized her passion and saw the determination in her eyes, offering unwavering support throughout her journey.
When it comes to Rafu'd's unique niche in streetwear, Shashavi's decision to break away from the more common choices of festive or occasion wear was a deliberate one. Although she initially leaned towards bridal wear as a naive freshman, her design school experiences broadened her horizons. She realized she had more to offer the fashion industry beyond bridal wear, which led her to explore the exciting realm of streetwear.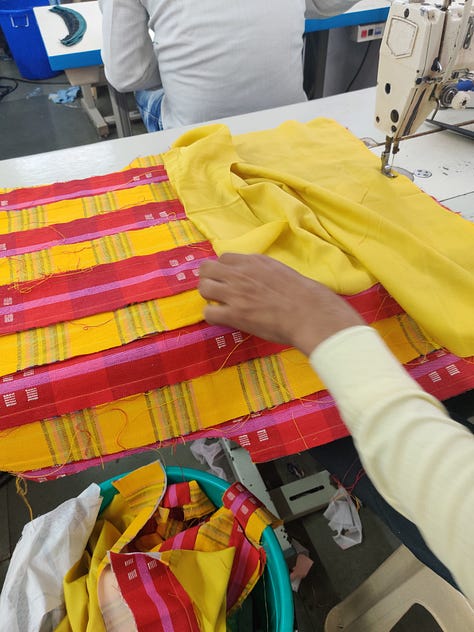 Rafu'd's brand identity reflects an amalgamation of Shashavi's diverse inspirations and ideas. From her early exposure to Indian art forms and textiles to her passion for sustainable fashion practices, everything has contributed to the unique concept she has brought to life. "RAFU'D" comes from an Urdu word- rafu, which means mending or patching a garment. The brand name is a reference to handwork, textures, and patching up the gap between narrative textiles and contemporary fashion.
While Shashavi's entrepreneurial journey has been filled with hard work and dedication, she embraces the hustle of her youth. Balancing her personal life with her brand is a challenge she willingly accepts. As a 23-year-old entrepreneur, she finds fulfillment in her work, and her passion fuels her drive to succeed.
Shashavi's journey with Rafu'd is a testament to the power of pursuing one's passion and breaking stereotypes. Through her brand, she has embraced quirky prints, sustainable practices, and a distinctive style that sets her apart in the world of Indian streetwear. With every collection, Shashavi continues to defy expectations and leave an indelible mark on the fashion industry.